Galactic Artifact
A free to play, non-combat multiplayer space exploration game For Windows, Linux, and the OpenPandora console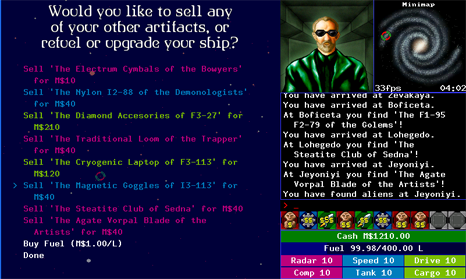 News:
January 12th, 2010: If you hadn't guessed, this game is on haitus for a while. Partly because the Pandora console hasn't come out yet, and partly while I sort other things out. I look forward to playing Galactic Artifact with you all after the Pandora is released!
February 5th, 2009: Galactic Artifact Release C is now available for download! Improved stability of multiplayer gameplay, new graphics from Pat Ferguson, and a horde of bug fixes! A Mac OSX version will be available shortly.
February 4th, 2009: Main server taken down in preparation for Release C. I'm planning for a Friday release.
January 22nd, 2009: You can now go head to head against your friends with the release of Galactic Artifact Release B. Multiplayer, all new music, mouse control, and many more features and bug fixes.
Download:
Download "Release C" (SVN 335) for Windows and Linux: (February 5th, 2009)
GalacticArtifact0335-ReleaseC.zip (30.8MB) slow!
GalacticArtifact0335-ReleaseC.zip (30.8MB) fast mirror
Game Manual
Please read the Game Manual before playing. (Updated for Release C!)
Feedback
Have you found a bug? Would you like to contribute some graphics to the game? Send me a message using this web form ***
*** UPDATE! (04/24/09) Darn! I just realized this web mail page was broken for several weeks.. going through my web logs I appear to have missed several mails. It's fixed now... Please feel free to contact me again!
Have a game idea? Please contribute it on the forums at http://www.gp32x.com/
Powered by DigiLynx Technologies